Sometimes it's tying the knot. Sometimes, untying one. I've done both for over 20 years as a copywriter and creative director, digital and otherwise. As a leader, I've been a pitch team leader in over $200 million in new business wins (Staples, United, UPS, Panera, H&R Block), navigated hundreds of projects from concept and strategy to successful metrics report, and helped dozens of creatives grow from the junior ranks to seats with a better view. All with a mercifully low degree of egodrama and a high degree of nose-to-the-grindstone problem solving. See Where I've Been, or sample some work below.
Building off a creative idea by Dan Mills and amazing code by Adam Kneisler, I drafted a name and a video (and voiceover) for Trump & Dump, an automated 'bot that automatically shorted stocks from instant sentiment analysis of Donald Trump's tweets. The returns we made were donated to the ASPCA. h/t to Brianne Boland for logo design and the epically amazing Reid Hildebrand for animation. We were a 2017 Cannes Cyber Lion Shortlist, alongside P&G and Google.
for STAPLES:
During mcgarrybowen's winning 2013 pitch, I proposed an array of digital concepts, including a comprehensive rethinking of how Staples could become a true digital partner with the Staples Dashboard (see video):
And a sampling of digital concepts:
for COURTYARD HOTELS:
In seven airports during the 2012 NFL season, I helped Courtyard turn their sponsorship into engagement. 7' x9' interactive touchscreens let users "Bullseye QB," passing their way onto national leaderboards. We sacked comparable engagement metrics by up to 47% (nicely done, Seattle!) and created lines to play and great optics for the brand.
for MCGARRYBOWEN, T3, and MULLEN
I'm one of the guys they put in the room to win the business. I've been the lead (and digital lead) on presentations that won the day, to the tune of over $200 million in new business wins for my agencies to date. And that doesn't include the organic growth of those accounts in subsequent years. New business keeps agencies healthy and keeps creatives motivated; it's when you see ad people—and agencies— at their very best.
for TOWNEPLACE SUITES by MARRIOTT
We raised consideration for Marriott's long-stay property by 68 points in a two month period, using a simple but effective social giving campaign. We worked all the angles on a slim budget, beating interaction goals by over 800%.
for SHARP TELEVISIONS

A holiday 2010 campaign for Sharp used some old standbys (rich media) and innovative fun (webcam-enabled sweepstakes entry/game) to help drive consideration and sales for the new four-color Sharp Aquos. The client wanted a microsite. I convinced them they needed something different. We won. Then, they won.
for U.S. DEPARTMENT OF EDUCATION
I concepted, pitched, and led the build of this pre-HTML5, Sect. 508 (ADA) compliant site. Ahead of its time, the site replaced stale government info about going to college with a testimonial- and information-rich site that was overwhelmingly well-received by the audience. Thousands made a declaration "I'm going..." and shared it on a then-growing Facebook. Interactive tools helped them create personalized wall maps that they could print out themselves. It won an IAC award for best government website in 2009.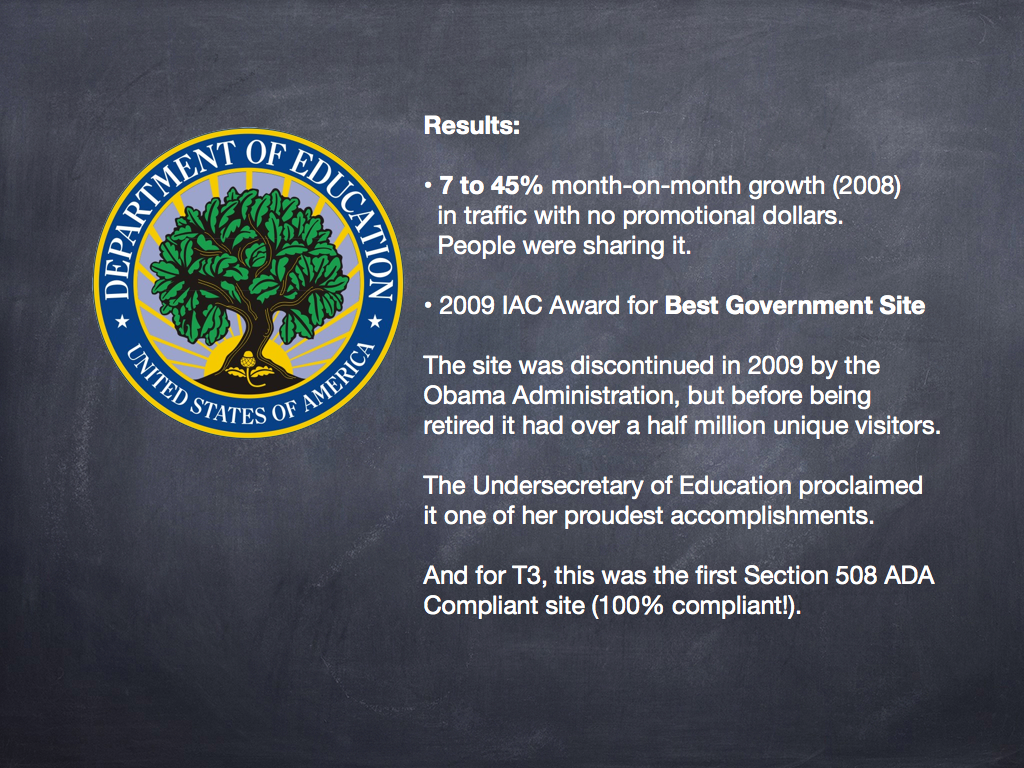 for MARRIOTT: iAds for various Marriott brands
2011 and 2012 rich, dynamic iAds for iPhone helped drive awareness and consideration with business consumers for different Marriott brand hotel properties.
for UPS
In winter 2008, when barely anyone had heard of Facebook, T3's UPS creative team dreamed, created and coded a holiday-riffic sharing site for crappy gifts. Users could upload and send them to eachother. The site was a finalist in good company at the 2009 SXSW Interactive and AdTech Awards. We even shot and voiced the retro instructional video ourselves.
for RENAISSANCE HOTELS
In 2011, Renaissance Hotels asked us to redesign their web site for their concierge service (a.k.a. "Navigators"), because consumers weren't aware of the program. We suggested a different—and more thorough—approach to the problem. They got their site, but we solved the bigger problem: consumers knowing and seeing the Navigators in their native habitat.
for Turner Networks GAMETAP brand launch
Hard to believe that a 2005 campaign would make it to my front page. But, for Mullen, one of my favorite creative teams helped create a wealth of—for its time—great online advertising and site content for Turner Broadcasting's new online gaming platform. Play classic arcade and home video games, right from your browser. Back then, it was groundbreaking. Today, it's still one of my favorite campaigns ever.